Spring into action because spring is finally here! After another round of cold, crisp winter weather, we're happy to uncover the best trends of this season. It's the perfect excuse to go shopping for new upholstery fabrics to give your furniture a brand new life. So, what are the trends that spring will bring?
Pretty in pastels
With spring, many think of bright colours such as greens, oranges and pinks. However, this season leaves a place for pastels too. Pantone's colours of the year themselves are two dusky shades – Rose Quartz, a soft, light pink, and Serenity, a neutral, creamy blue.
Here are some other spring colours for 2016, picked out by Pantone:
Peach Echo – You'll first see this as a vibrant peachy orange, but there are subtle dusky undertones. Incorporate into areas that aren't afraid of a splash of colour, such as by your pool with Cove Passion Flower.
Limpet Shell – Everyone loves a little teal in their home. Limpet Shell takes a step back from the bright blues, and adds a touch of green to the shade, creating a new look on Tiffany blue. This colour can appear harsh if used in a large area, so save it for accents such as in this geometric Zulu Amber pattern.
Lilac Gray – Grays are totally in this season, leading in from an industrial-chic phase. Rather than opting for the usual neutrals, however, add a splash of purple for this warm, urban shade. Adopt variations of this timeless colour into your home with fabrics such as Coco Silver or Coco Orchid.
Of course, you can't forget about the colours of the year themselves. Rose Quartz is a lovely pink to showcase in a Scandinavian-style home – it works extremely well with light grays and even a few edgy blacks! On the other hand, Serenity is a tranquil shade to work into any nautical or beach theme.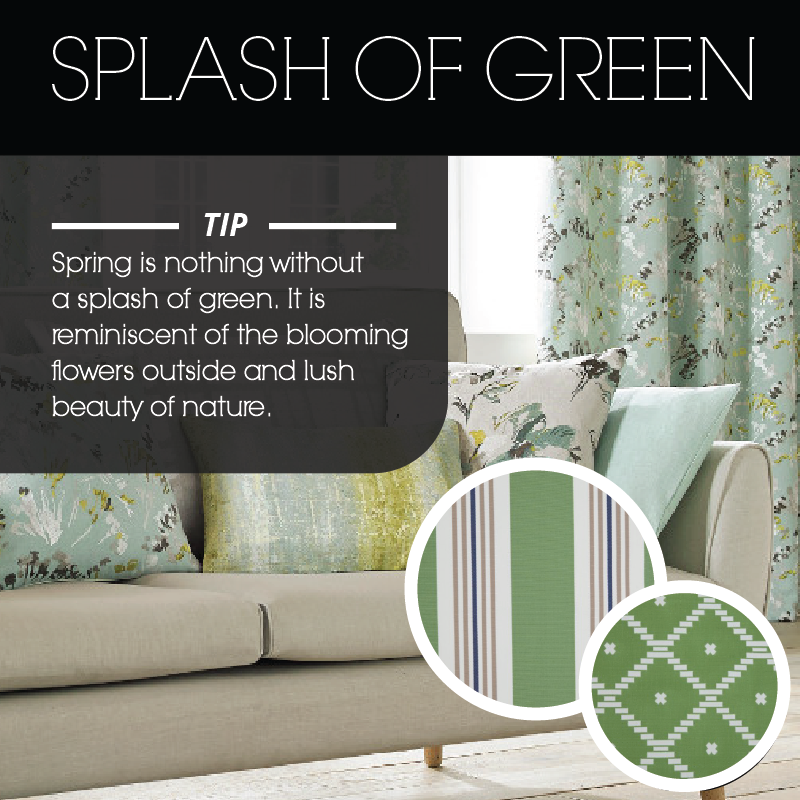 Spring clean, spring green!
Spring is nothing without a splash of green – it's reminiscent of the blooming flowers outside and lush beauty of nature. You'll want to keep green as an accent colour, because while it may be a staple colour of spring, many find that brighter colours such as this won't transition well into other interior design themes.
Keeping fresh flowers in your home will help to complement these greens, but don't be afraid to bring in some outdoor furniture to spice up your home.e, and better yet, they are spill proof – safe from any liquids spilt during your spring soiree.
For some expert advice on interior design and trendy upholstery fabrics, don't hesitate to reach out to the team at Charles Parsons.