It's rustic meets chic, it's industrial meets ornate, it's hard meets soft – It's tough luxe?
You may not have heard much about this style, but tough luxe is no stranger to our homes. It's often incorporated into other styles and called something else. Tough luxe is a delicate blend of hard elements mixed with softer furnishings. Are you ready to adopt this style into your interior design? Here's why you should have started decorating your home with tough luxe a long time ago.
What exactly is tough luxe?
While you can probably guess by the name, tough luxe is the balance of cold elements such as industrial components – materials like copper, stainless steel and concrete – with softer, lush elements such as fur and fabric-covered furnishings.
With tough luxe, it's not uncommon to see concrete features with fur accents.
It makes for an interesting interior space – concrete features next to furs and brick can be seen paired with leather fabrics. What ties it all together are cleverly placed subtle items, a beautiful blend of colour palettes and a sense of purpose to every element. You'll see it in many warehouse-turned-apartments or even barns, as too many of the 'hard' materials can make a room feel uninviting.
House Rules fans can see an example of tough luxe in this season's Episode 8 during the transformation of Brooke and Michelle's South Australian home. Team Nancy and Daniel pulled off the perfect combination of brick meets wood in Michelle's workroom. For those who haven't seen the episode, it featured a white wall roughly melting away to reveal exposed brick, completed with a collection of wooden and metal furniture detailing the space.
Adding a bit of luxe to the interior, the team styled with a dark grey upholstered dining chair for the desk with a low-back wide sofa bed. Black leather cushions were placed on either side of a statement houndstooth cushion – both design and colour really worked the whole 'tough' with the 'luxe' concept.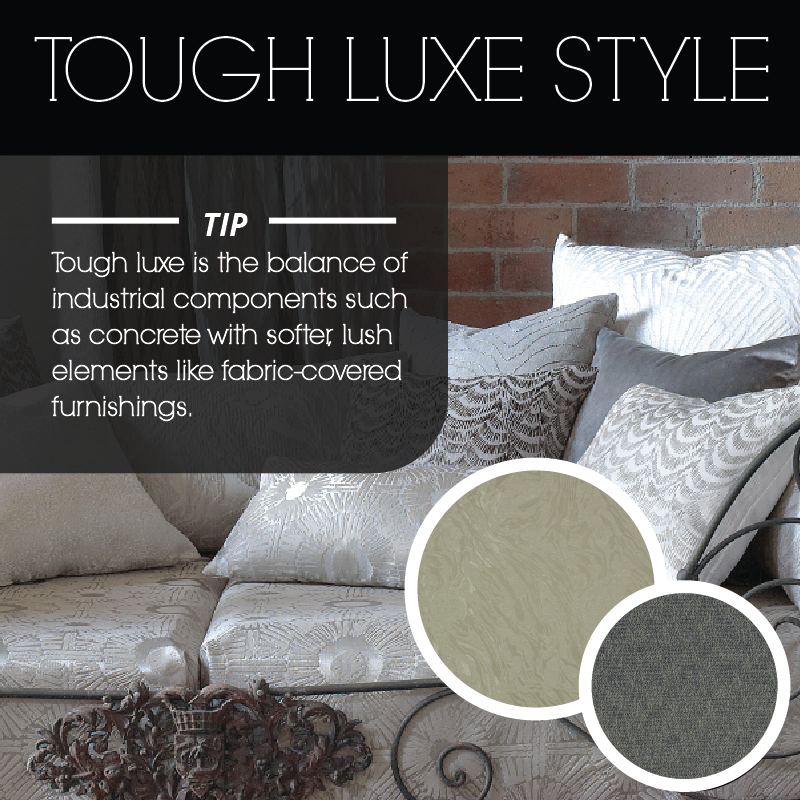 How to style
Finding a balance between the contrasting elements can be tricky, but if a light hand is used in ornamenting the room, you're on the right track. A good starting point is to decide if you want your room to tend towards an industrial or rustic vibe.
From all the components you'll want to incorporate, find a colour palette. This will help you determine the sort of furnishings you'll want to use to soften up your interior design. Don't be hesitant to incorporate different textiles to liven up your space.
Pro-tip: Bring in your outdoor fabrics! Who says they can't be used indoors? They're made from a hardier material, meant to withstand the elements outdoors, and add a unique texture to the furnishing fabrics inside your home. Outdoor furniture is waterproof, so if you have unsteady hands or boisterous children, it's a win-win situation.
Luxe lighting
It's important to get your lighting at the correct level to make sure that it promotes the ambience of your room's design. HouseBeautiful explains that one of the biggest mistakes when it comes to lighting is relying on a single light source to illuminate an entire room. Instead, you should use multiple lights to create an atmosphere suited to the function of the room.
A good rule of thumb is to aim to light up three of the four corners of a room, according to RealSimple. In the dining room, you'll want a relaxed atmosphere. The focus should be your dinner table, whilst also allowing peripheral light sources to enhance other areas. This is when dimmers come in handy, as they allow you to manipulate the light as needed. It also helps to save on power – an energy-efficient way to enhance your interior design whilst providing adequate light when necessary.
Get to know your bulbs and wattage, and also the difference between yellow and white lights. Too much yellow along with brick and wood elements can make your guests feel drowsy.
If you'd like to know more about finding the right furnishing fabrics to suit your tough luxe home, contact the team at Charles Parsons today.